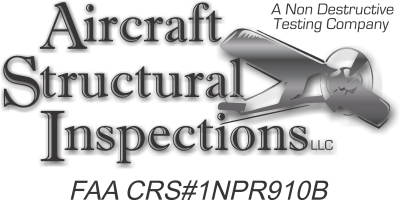 FAQ
(Frequently Asked Questions) PA-28 AD 2020-26-16 
AMOC Reference - https://www.avweb.com/aviation-news/early-piper-spar-inspections-need-amoc-approval/?fbclid=IwAR3S7T8bM8UUXKuMQqxqyP_UwTdanxvsMIy4TJ_NngEpbUfoJnuy3tpRu4U
1Q. Why is this Inspection Required?
1A. This is an AD (Airworthiness Directive) which means it is required by the FAA to be complied with. This AD is derived from a Plane crash due to the separation of the left wing from the fuselage. Accident Report (Click Here)
2Q. Why must you do eddy current inspection?
2A. The eddy current inspection must be done as this is what the AD 2020-26-16 requires as well as it is the best inspection method to look inside the bolt hole for possible corrosion or cracks, which is not possible with a visual inspection in this area.
3Q. What service does ASI provide?
3A. Our company performs the NDT Eddy Current potion of the Inspection, but we can arrange for a Mechanic to prepare the airplane for removal and reinstallation of the hardware. This adds approximately a $300 - $400 cost to the Inspection.
4Q.Where can the Inspection be performed?
4A.We generally come to you or your maintenance provider to preform the needed inspection. We travel within the entire United States and Internationally. If you would like the option to bring your plane to us or one of our maintenance partners facilities, please contact us for more information.
5Q. How long will the Inspection take?
5A.The Eddy Current Inspection portion will take approximately two hours, this includes the paperwork, CoC and Inspection Report(s).
6Q.What is effective date of AD 2020-26-16?
6A.The AD becomes in Effect February 16th, 2021.
7Q. Does this apply to my aircraft?
7A. Click Here to see a list of Effected Models.
8Q. Is my plane due for the AD Inspection?
8A. Your plane is due when it has 5,000 FSH (Factored Service Hours) or more according to AD 2020-26-16. The formula to find out if your plane is due can be found if you Click Here. If you are having trouble following the formula and need help we are available to help. We need the number of 100 hour inspections the plane has had, as well as Time in Service (TIS).
9Q. If I have missing records, not the only owner, or incomplete records what does that mean for me?
9A. This means according to the AD that you should have the inspection performed as the status of the wings are unknown.
10Q. What have you seen on previous Inspections?
10A.  On previous Inspections we have seen limited to light corrosion, but no cracks as of yet.
11Q. If I already complied with this inspection does it still count?
11A. Yes, as long as you have a report document that states so. If we previously Inspected your plane, and the plane passed the inspection please contact us and we will generate a report.
12Q. Where does the Report go to?
12A. The SB 1345 Feedback form goes to the Manufacturer, The AD 2020-26-16 Inspection Result Form goes to the FAA & Piper Manufacturer, Address Included on Report.
13Q. What is the cost of replacement parts?
13A. We have done the research and found sources that have stock of replacement hardware. If you
purchase the replacement hardware from any of the listed sources, you MUST ensure the purchased
hardware is correct for your aircraft serial number using the aircraft Illustrated Parts Catalogue/Manual
serial number break/Useable On Code for your specific serial number. There are two length of bolts
available to be used on the PA-28 and PA-32 series aircraft. Failure to ensure you have purchased the
correct hardware can slow the completion of AD 2020-26-16 final assembly. The estimated cost of
replacement hardware is $15.00 to $20.00 without shipping costs.
The following is a list of part numbers for replacement hardware and quantity required:
AN176-13A Bolt, Close Tolerance (QTY 2 or 4)
AN176-14A Bolt, Close Tolerance (QTY 2 or 4)
AN960-616 Washer, Flat (NAS1149F0663P) (Alternate) (QTY 8)
96352-3 Washer, special are not available for purchase
404-563 Nut, Self Locking (NAS20365-624C) replaces P/N 404-890 listed in the IPC/IPM (QTY 4)
NOTE: Washers may be reused if found serviceable. All other hardware MUST be replaced.
Hardware sources:
Bolts and Washers                                                                     Nuts
Aircraft Spruce & Specialty                                                    Airparts West
Monroe Aerospace                                                                   Aviall/Boeing
Airparts West
Aviall/Boeing
Sky Geek
NOTE: Aviall/Boeing requires a customer account for purchase of products.
14Q.What type of certification is required to preform this Inspection?
14A. In addition to ASI being a FAA Certified repair station. Our Inspectors are NDT level II or III and are also NAS-410 certified. Which meets the requirements of the AD and SB.
15Q. Where can I schedule a Inspection?
15A. Please contact (870)-270-6007, or beaundt@gmail.com. We will need your NNumber, Aircraft Model, Your Name, and Location.
16Q. How much does the Inspection cost?
16A. The eddy current inspection costs $600.00 + Travel cost, we provide a discounted travel cost if multiple planes can be coordinated at one location.
Additional Information:  Click here for AMOC information.